Subject Code & Title :-  5OS01 Specialist Employment Law
Assessment Type :-  Assignment
This unit explores key areas of employment legislation and its legal frame work. It focuses on how people professionals are obliged to take account of legal requirements in different jurisdictions when carrying out the varied aspects of their role.
5OS01 Specialist Employment Law Assignment – UK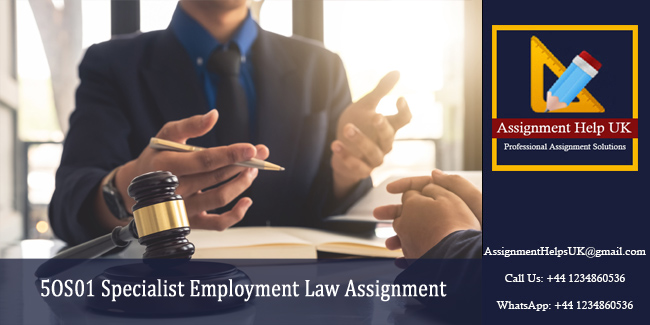 CIPD's insight factsheets
CIPD provide a number of factsheets in relation to employment law:
 Recruitment
 Terms and conditions of employment
 Employees and workers
 Holiday entitlement and pay
 Working time
 Maternity and parental rights
 Sex discrimination
 Equal pay
 Disability, race, religion and belief, sexual orientation discrimination
 Discipline and grievance
 Dismissal
 Employment tribunals
 TUPE
 Redundancy
Follow this link to access CIPD's factsheets and learn more about employment law.
You can also use these links to learn about:
Employment law updates on recent and upcoming legislation
Employment law in the UK and how it is made
You can follow this link to access a number of informative podcasts
Case Study :-
Acenez Research Labs (ARL) is an innovative scientific organisation. Its goal is to research digital health solutions and transform medicine development in the future. It is a small UK company based in Cambridge and until recently employed 30 staff. It was set up by two biologists around five years ago, and they manage the operations of the company in addition to carrying out their own research.
Due to the global pandemic ARL have received funding from a number of organisations to develop its research which has resulted in the recruitment of over 60 new staff including 15 managers. The recruited managers are excellent biologists but have limited management experience dealing with HR-related matters.
Up until recently the organisation has not had a HR department with most HR tasks carried out by one of the Senior Directors. However a number of grievances and employment cases have been raised and must be addressed.
You have been appointed as an external consultant for ARL. You will provide employment legislation advice to the Directors of HR and help them reduce the number of complaints and grievances. The Director has given you examples of the current problems within ARL and has asked for your advice. The plan is to develop a manager's toolkit to be used for training purposes in the future.
Scenario One :-
ARL value fairness during the recruitment and selection process.
However the HR department has recently received a complaint from a prospective member of staff. This person was verbally offered a job after their interview but they had the offer withdrawn following a discussion with their referee about their ability to cope with the job.
Scenario Two :-
ARL provide fixed salary scales for biologists and they all start on the salary of £25,000 per annum. Most of the 60 new recruits were male with only one female being recruited. However, during informal discussions in the staff room the female biologist revealed that her starting salary was £30,000 resulting in a number of complaints.
Scenario Three :-
ARL contracts of employment have always outlined the hours days to be worked rates of pay and place of work. How ever due to the size of the new contracts and the expansion ARL have been looking to review the contracts in terms of hours worked. ARL have suggested that the contract be changed from 0900-1700 Monday-Friday to 08:00-20:00 Monday-Sunday. It has just sent an email to all staff informing them the change will be implemented from the first of next month.
However ARL have also been approached by an international pharmaceutical company who may be interested in taking them over the in the future. Staff are concerned about their rights in relation to transfer of undertakings.
Scenario Four:
It is quite common for the biologists to become very involved in their research resulting in them working long hours and failing to take the required rest breaks. A number of employees have placed flexible working requests but these have all been declined due to a lack of under standing from the Senior Director.
Scenario Five :-
Following the extensive expansion of ARL, a restructure has taken place. The marketing team used to be made up of four individuals including their manager. This marketing manager took maternity leave and during this time the other three individuals absorbed her workload. ARL labs made the marketing manager job role redundant during the maternity leave and re-employed her in a different department. The marketing manager complained that the redundancy was in relation to taking maternity leave and not due to the job role.
Preparation for tasks:
 At the start of the assignment, you are encouraged to plan your assessment work with your assessor and where appropriate agree milestones so that they can help you monitor your progress
 Refer to the indicative content in the unit guide and support your evidence
 Pay attention to how your evidence is presented. Remember you are working in the People Development Team for this task
 Ensure that the evidence generated for this assessment remains your own work
You will also benefit from:
 Acting on formative feedback from your assessor
 Reflecting on your own experiences of learning opportunities training and continuing professional development
 Taking advantage of the CIPD factsheets reports and pod casts and any other online material on these topics
Task 1: Manager's briefing paper
The HR manager has asked you to produce a manager's briefing of no more than one page to be emailed to them at the end of the month. It should provide updated guidance on the purpose of employment regulation and why it is enforced in practice.
Your briefing paper should be professionally produced, including appropriate images to support your discussion.
The briefing paper must include:
 An evaluation of both the aims and at least three objectives of employment regulation
 An examination of the role played by the tribunal and courts system in enforcing employment law covering the hierarchy of the court system in the UK
 An explanation of how employment cases are settled in terms of the role of ACAS and use of COT3 (GB) and the early conciliation process part of AC1.3) before the start of proceedings
 An explanation of how cases are setting during formal legal proceedings in terms of settlement agreements
Your evidence must consist of:
Briefing Paper including appropriate images of approximately 1000 words.

5OS01 Specialist Employment Law Assignment – UK
Task 2: Manager's toolkit
Using the scenarios you have been provided with produce a number ofprofessionally presented pages to be part of the manager's toolkit available on the HR portal. The document should include a front cover and contents page.
Page one should cover scenario one and advice for managers:
 Evaluating the principles of discrimination law in recruitment selection and
employment
Page two should cover scenario two and advice for managers:
 The legal requirements in relation to defencing equal pay claims and conducting equal pay reviews
 Explaining the major statutory rights workers have in relation to pay
5OS01 Specialist Employment Law Assignment – UK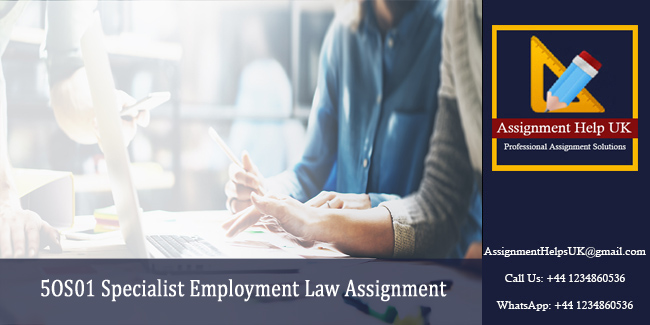 Page three should cover scenario three and advice for managers:
 Discussing the legal implications of managing the change in relation to the working hours
 Explaining the legal requirements relating to the transfer of under takings

Page four should cover scenario four and advice for managers:
 Explaining the major statutory rights in leave and working time
 Explain other employment rights relating to flexible working

Page five should cover scenario five and advice for managers:
 Explain the main principles of maternity paternity and adoption rights in the context of employment rights
Your evidence must consist of:
Manager's toolkit which includes a number of professionally presented pages to be stored on the HR portal including images and used a self-study resource for managers. The toolkit should be approximately 2600 words.
ORDER This 5OS01 Specialist Employment Law Assignment NOW And Get Instant Discount
Read More :