Unit Title :- Clinical Decision Making
Assignment Type :- Assessment
Clinical Decision-Making Assessment: A report into the clinical decisions made for a clinical care scenario.
You have to write a report on a clinical care scenario that involves clinical decision making.Consider any clinical placements recent or one that you can remember. Think of an episode of care that was under taken. This does not have to be good or bad. Please avoid anything that may be personal emotive or considered poor practice and needs escalating. We are using this as an opportunity to learn why some thing happened in a particular way or why it may be best for it to be undertaken differently. You are also able to frame this on one of the case studies if you choose to.
Clinical Decision Making Assessment – UK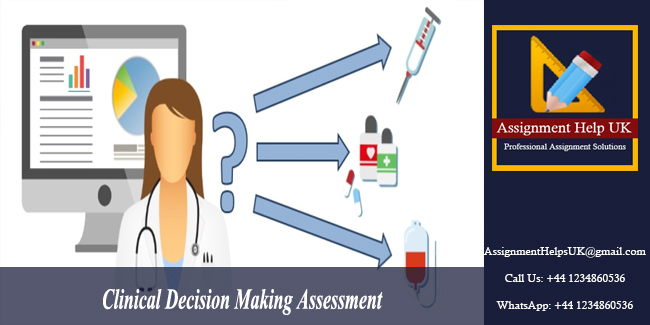 The clinical care scenario care will provide the framework for the report and the critical discussions and therefore ensure that it has sufficient content to be able to explore and not too much that it is hard to cover.
Tasks to undertake in order to write the report:
a. Identify an episode of care. Write down the details.
b. Consider the clinical decisions made and the processes involved getting to that decision. By doing this you may uncover elements that you will explore within your clinical care scenario. For instance experience ethical or professional aspects may influence the decision-making process.
c. Write down the key clinical decisions made. Break these down so that they can be explored. You may not choose to write all of these down. Focus on the important aspects
The report has to cover the following aspects
1.A brief summary of the clinical decisions made.
2.A discussion of the pathophysiology and pharmacology relevant to the episode of care
3.The importance of person-centred care and involving patients in their decisions around the planning and implementation of their care.
4.Discuss the relevance of health policy in relation to the episode of care.
5.Critical discussion and evidence to support or refute the decisions that were made
6.Evaluating the effect of the decision
Included in the report there must be consideration towards:
Ethical issues and professionalism.
Systematic approaches to care, for instance the Nursing process.
There must be critical discussion and evidence to support your writing from a wide range of sources.
Word count 2500+/- 10%
You will be offered the opportunity to undertake a formative to support you with your assignment.
The formative will consist of 500 words on section 2: Explore the relevant pathophysiology and pharmacology relevant to this clinical care scenario. Include in the appendix your clinical care scenario and an outline of your report (bullet points).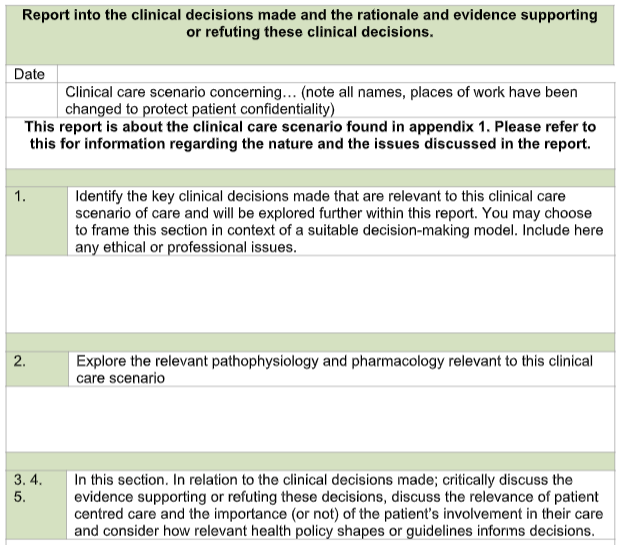 ORDER This Clinical Decision Making Assessment NOW And Get Instant Discount