Unit Code & Title :- COM0006NFBNM Technology In Organisations
Assessment Type :- Assignment
Assignment Brief :-
As part of the formal assessment for the programme you are required to submit a Technology in Organisation assignment. Please refer to your Student Handbook for full details of the programme assessment scheme and general information on preparing and submitting assignments.
COM0006NFBNM Technology In Organisations Assignment – UK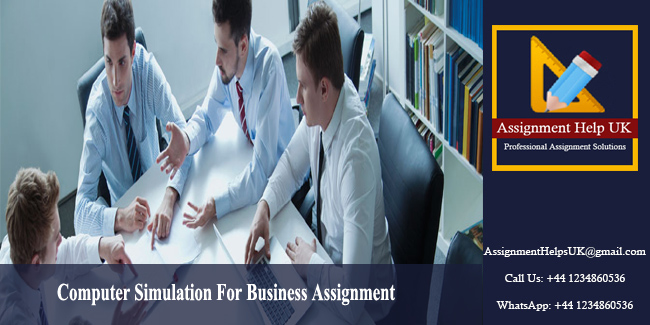 Learning Outcomes:
After completing the module, you should be able to:
1. Identify the evolving role of Information Systems within modern day organisations.
2.Outline the advancements in telecommunications and its impact on organisations.
3.Explain the IT security and data privacy measures that an organisation must implement.
4.Use IT to create, edit, format a range of organisational documents.
Guidance
Your assignment should include: a title page containing your student number the module name the submission deadline and the exact word count of your submitted document the appendices if relevant and a reference list in Harvard AU systems. You should address all the elements of the assignment task listed below. Please note that tutors will use the assessment criteria set out below in assessing your work.
You must not include your name in your submission because Arden University operates anonymous marking which means that markers should not be aware of the identity of the student. However, please do not forget to include your STU number.
Maximum word count: 3000 words
Please note the following:
Students are required to indicate the exact word count on the title page of the assessment.
The word count includes everything in the main body of the assessment including in text citations and references. The word count excludes numerical data in tables figures diagrams footnotes reference list and appendices. ALL other printed words ARE included in the word count.Please note that exceeding the word count by over 10% will result in a 10-percentage point deduction.
Assignment Task
Note: Please provide citation within text and complete Arden Harvard references for complete answer of each question. Please attend workshop for this provided at each campus.
Question 1- Case Study & Questions
Amazon is well known multinational business. A major investment strategy is in place to improve its ability to be more successful and achieve competitive advantage by use of information systems linked to Cloud Computing.
A) Describe the evolving role of Cloud Computing within modern day organisations from cloud computing service models point of view.
B) Discuss the key benefits organisations like Amazon gain after adopting Cloud Computing.
Question 2 – Security and Privacy
Suggest any three security requirements that any organisation must implement and explain how a framework can be used by organisations for security and control of its data. Example required.
Question 3 Telecommunication and spreadsheets
A) Choose an organisation Discuss some of the key networking infrastructure your choice of organisation might use for everyday business operations.
B) Below is a spreadsheet from the Sales department of AllTech Group It shows a forecast of revenue for a number of different countries for the next 4 quarters.
Based on the information in the spreadsheet below calculate:
i) the total of all countries Quarter Totals and the Mean MedianMax and Min value of this total as per the spread sheet below.
ii) the number of countries during Q2 with a forecast of more than £27,000.
iii) the number of countries during Q4 with a forecast of less than £15,000.
(Note: Students must write the commands or functions for the above questions to score full marks. Also they must replicate the spreadsheet below in order to address the above questions. The students must include screenshots of this in their assignment submission to provide evidence of their use of excel spread sheets).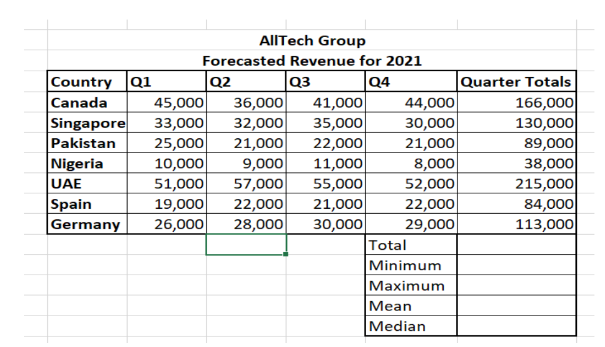 ORDER This COM0006NFBNM Technology In Organisations Assignment NOW And Get Instant Discount