Module name : IT Services Practice
Module code: IMAT3428
Title of the Assignment: Digital Transformation Consultancy Report
The learning outcomes that are assessed by this coursework are:
1.To describe and critically analyse the digital transformation strategy and implementation of a public sector organisation.
2.To explain and evaluate the potential and use of a range of leading-edge technologies for an organisation's digital transformation
3.To identify and recommend strategies for digital transformation of the public sector organisation.
4.To develop skills in applying a range of approaches in presenting the results of the consultancy.
IMAT3428 Digital Transformation Consultancy Report Assignment – UK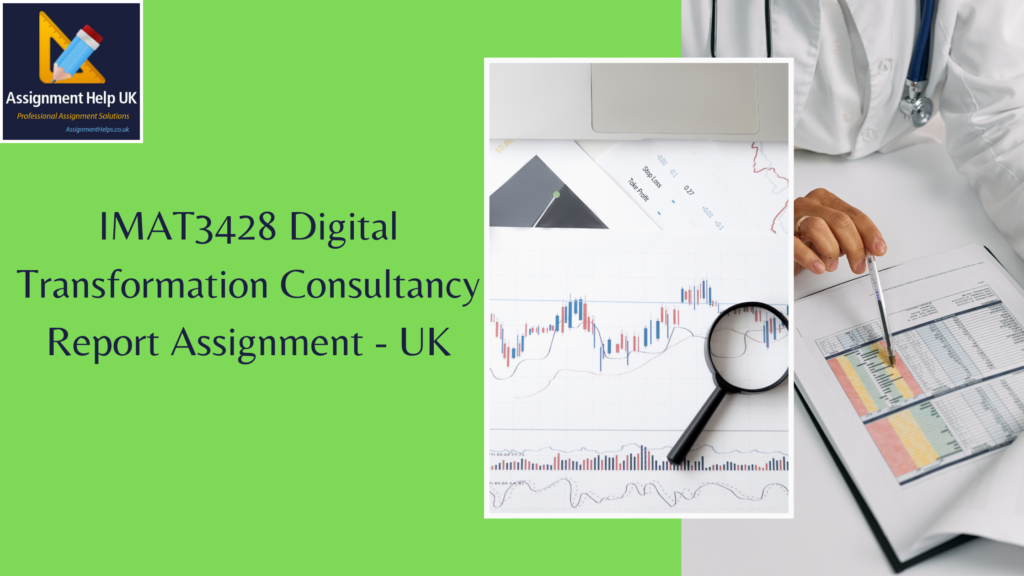 Tasks to be undertaken:
Introduction :
This coursework involves the development of a digital transformation strategy for a selected public sector organisation which focuses on three areas of leading-edge technology.
The strategy will focus outwardly, on how IT services in the organisation serve its IT customers both internal and external and on how digital technologies might transform the business models processes and culture.
You will have selected a public sector client: a hospital government department university council or any other public sector organisation.
The consultancy will involve understanding the purpose and business of the public sector organisation and its connections with other organisations and sectors critically analysing any existing digital transformation strategy and moves towards digital transformation and identifying new and future directions.
IMAT3428 Digital Transformation Consultancy Report Assignment – UK
The digital transformation strategy will focus on three of the following key themes:
1. AI and Algorithms
2. Big Data and analytics
3. Internet of Things and Edge Computing
4. Block chain
5. Robotic Process Automation
6. Human Augmentation
7. Quantum Computing
These areas are covered through online lectures and seminars.
Seminars and lecture will tackle some technologies and strategic aspects. You will be required develop consultancy around to three out of seven key technology directions as the core of a digital transformation report.
In Week 22 (28 th February 2022) you will be randomly allocated three of the seven themes to deliver as a consultancy portfolio.
Context :-
You will need to investigate the organisation and define its current systems and services You will need to maintain awareness of what is going on in the organisation and what is changing also what is changing in the government and in its public sector environment You will need to monitor and scan trade and professional literature in both the Government sector and the IT industry for innovations in digital transformation and the leading-edge technologies.
Structuring Your Report
You will need to address the organisation, its current progress in digital transformation and your recommendations and suggestions for future direction in digital transformation.
The following is a suggested structure which can be tailored to suit your organisation:
Digital Transformation Consultancy Report Template
Introduction to Organisation
Organisation purpose, function and relation to other public sector organisations
Business model and processes
External factors including government strategy, regulations and Covid-19 which may affect the organisation.
Current IT Strategy
Use of IT within organisation.
Current digital transformation strategy Maturity Current extent of implementation of digital transformation
Potential
Areas of organisational activity which may benefit from digital transformation. For example:
Efficiency and cost reduction Improved customer journey Strategic innovation of services Data analysis and intelligent decision making.
Themes
Theme 1
Theme 2
Theme 3
Recommendations
Digital Transformation Road Map
Bibliography
IMAT3428 Digital Transformation Consultancy Report Assignment – UK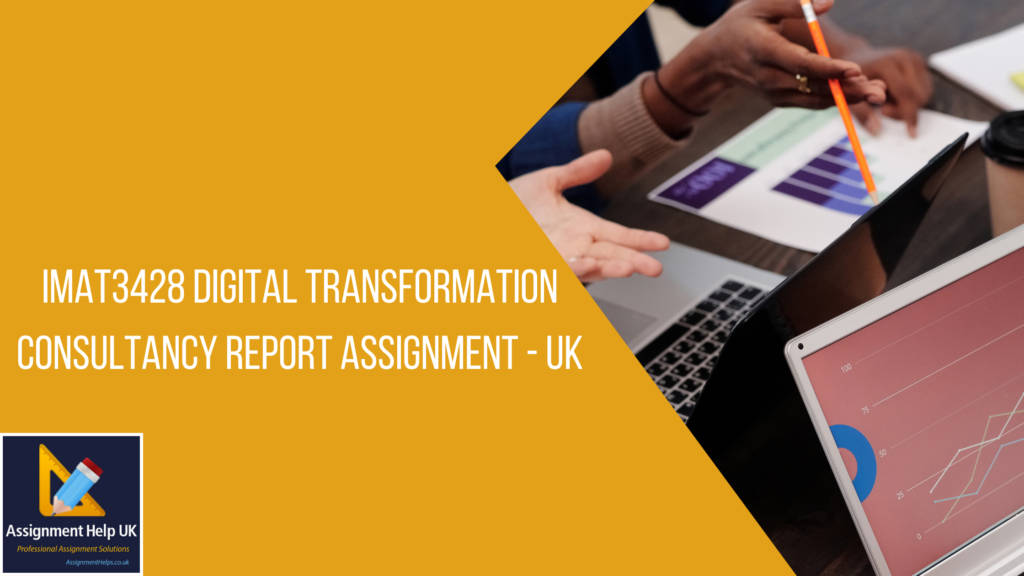 Deliverables to be submitted for assessment:
Your submission should be no more than 12 sides of A4, between 2000 and 4000 words.
It should be structured as a consultancy report, well presented readable and identifying conclusions and actions you wish the public sector organisation to take
Sources should be listed at the end of the report but are not part of the consultancy report.
Any quotes should be clearly indicated by indenting, italics and quote marks.
How the work will be marked:
The coursework submitted to Blackboard through Turnitin will be given a percentage mark and count for 100% of the final module mark.
ORDER This IMAT3428 Digital Transformation Consultancy Report Assignment NOW And Get Instant Discount

Read More :-
6COM1048 Advanced Database Topics Assignment – Hertfordshire University UK.