Subject Code & Title : PGBM01 Financial Management And Control
Assignment Type : Assessment
1.Assessment weight: 100% of module
2. Outcomes Assessed: All module learning outcomes,knowledge and skills, are assessed in this assignment.
3. This assessment is in three parts, please answer all elements.
4. Please note that this is an individual assignment and the policy of the University on "Policy on Cheating,Collusion and Plagiarism" applies.
5. Please write your Tutor's name clearly on the front of the assignment.
PGBM01 Financial Management And Control Assessment – Sunderland University UK.
PART 1 :
The following are extracts of the Income Statement and Balance Sheet of Loyd plc.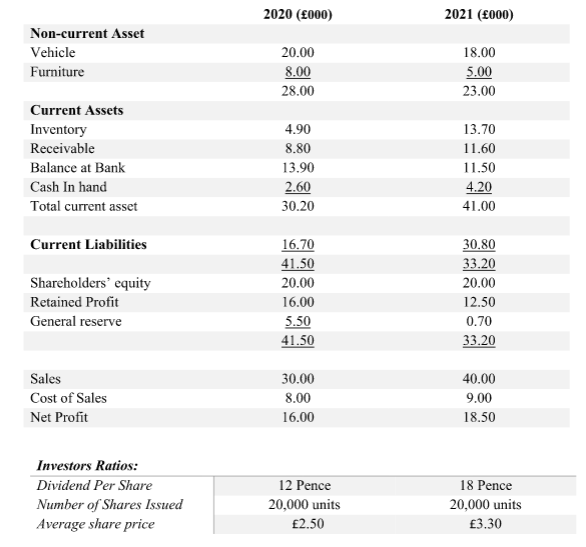 The following ratios indicates the benchmark performance of the industry average for the year 2021:
Ratios Measures
Gross Profit Margin 65 percent
Net Profit Margin 55 percent
Receivable Collection Period 68 days
Earning Per Share 50 pence
Dividend Yield 3.2 percent
PE ratio 6.5 times
PGBM01 Financial Management And Control Assessment – Sunderland University UK.
You are required to calculate the following ratios for both years:
a. Gross Profit Margin
b. Net Profit Margin
c. Current Ratio
d. Quick Ratio
e. Receivables Collection Period
f. Earnings Per Share
g. Price Earning Ratio
h. Dividend Yield
b. Prepare a report to the management on the following category of the ratios:
(i) Profitability
(ii) Efficiency
(iii) Liquidity
(iv) Investor's Ratio
PART 2 :
The net operational cash flows of investment schemes of Futsal and Restaurant as follows:
A. You are required to calculate, for both schemes, the:
(i) Accounting Rate of Return
(ii) Payback period
(iii) Net Present Value
(iv) Internal Rate of Return
(v) Critically evaluate all forms of investments appraisal techniques and conclude which particular technique is superior among all.
(vi) Based on the investment appraisal techniques and its superiority, provide clear recommendation for a choice of either Futsal or Restaurant investment scheme assuming a company is not able to undertake both investment schemes at the same time or mixed of Futsal and Restaurant.
PART 3 :
Mr Patrick Fernandez, the Finance Director of Ray plc, is planning to raise funds to fund an acquisition project. He has decided to use the following sources.
(i) Issue bonds amounting to £2.5million with an annual coupon rate of 6.5%.
(ii) Issue 500,000 units of preferred shares for £2.00 each with a fixed dividend rate of 8%
(iii) Issue 100000 units of ordinary shares for £5.00 each. Mr. Patrick expect to pay an annual dividend of 10% to all its ordinary shareholders. Given that the tax rate of the company is 26%.
PGBM01 Financial Management And Control Assessment – Sunderland University UK.
You are required to:
a. Calculate the total funds Mr. Patrick wants to raise to fund the acquisition.
b. Calculate the net cost of debt of the bonds issued.
c. Calculate the WACC for the total funds raised for the acquisition.
d. Explain and critically evaluate main sources of finance that could be utilized by a company during the times of COVID-19.
ORDER This PGBM01 Financial Management And Control Assessment NOW And Get Instant Discount
Read More :-