Module Code :-  PGBM135
Module Title :-  Global Strategy And Foresight London
Assignment Type :-  Assignment
Introduction :- This module is assessed by two separate assignments:
Assessment 1 – a case study-based coursework Assessment 2 – Infographic and Group Presentation. Details of the assessments are as follows.
Module Learning Outcomes
Upon successful completion of this module you will have demonstrated
PGBM135 Global Strategy And Foresight London Assignment – UK
Knowledge :-
K1. That you can critically evaluate the theoretical basis for sources of competitive advantage and evaluate their relevance to practice

K2. That you can critique the relationship between organisational vision strategic objectives intent resources planning and the firm's environment
K3. That you have an appreciation for the conceptual theories of internationalisation innovation and competitive advantage to different industries and locations
K4. That you can demonstrate critical understanding and application of relevant theories and tools associated with strategic foresight and the need for organisational future orientation
Skills :-
S1 How to review and present their critical knowledge of selected international business strategy and foresight literature
S2. Your ability to evaluate an organisation's competitive environment analyse its competitive positions and identify its strategic resources capabilities and core competences
S3. Your ability to explore global trends and drivers of change with a pursuit of identifying attractive future markets
S4. How to identify the key resources capabilities and competences for an organisation's future growth and sustainability
S5. How to use relevant foresight tools to understand and articulate the dynamic nature of a given industry its future trajectory and develop plausible scenarios

PGBM135 Global Strategy And Foresight London Assignment – UK
Assessment 1 (80% weighting)
Case study based Individual coursework with a word guideline of 3000 words plus or minus 10%) to meet learning outcomes K1, K2, K3, S1, S2 and S4.
Case – Compass Group Plc.
Compass Group has made an incredible journey since its start in 1941 as Factory Canteens Ltd". Bate man Catering and Midland Catering were acquired by Grand Metropolitan in 1967 and 1968 respectively and a management buy-out from Grand Metropolitan followed in 1987 when the Compass Group was formed. The many companies that have joined Compass have contributed to the rich heritage and shaped the personality of the business today. Whilst Compass Group has come a long way from these humble beginnings to become the inter national business they are now, the commitment of their people to their customers the quality of the service and the spirit of innovation remain a constant and on going feature of the company's development.
Compass Group Plc provides food and support services to customers in the workplace, in schools and colleges hospitals at leisure and in remote environments. It operates in following sectors: Business and Industry Education Healthcare and Seniors Sports and Leisure Defense Offshore and Remote. Compass Group was founded in 1941 and is headquartered in Chertsey the United Kingdom.
Compass Group was first listed on the London Stock Exchange in 1988. Eurest, one of the company's US subsidiaries was launched in the USA in 1996 to provide dining services to local regional and national companies within the Business & Industry markets including employee dining centers, on-site catering vending executive dining rooms and other managed services.
Compass Group became the World's biggest catering firm by 2005. Meanwhile ESS was contracted by the U.S. Marine Corps the 82nd Airborne Division, the British Ministry of Defence, the Coalition Provisional Authority along with the major defense contractors Fluor, RMS, Bechtel, and most notably KBR a subsidiary of Halliburton under the U.S. Army troop support contract called LOGCAP III to provide dining and construction services at desert bases and encampments in Kuwait and Iraq from the start of operations in 2003 to 2006.
PGBM135 Global Strategy And Foresight London Assignment – UK
In April 2006 Compass Group sold its roadside and travel catering businesses for a combined £1.82 billion. The transaction included the sale of 43 Moto motorway service areas to Australia's Macquarie Bank for an estimated £600m. Compass's Select Service Partners (SSP) travel concessions business was sold to companies controlled by private equity firm EQT Partners for an estimated £1.2 billion.
The company made further acquisitions in 2009 including Kimco and Lackmans in the USA Plural in Germany and several McColls retail site leases in the UK. Please visit Compass Group Plc you are advised to update the case study will relevant current sources from the online library and credible media.
Structure :-
Assessment 1 (80% weighting) – Submission due after week 10. See top of document for more details.
Case study based Individual coursework with a word guideline of 3000 words plus or minus 10% to meet learning outcomes K1, K2, K3, S1, S2 and S4.
PGBM135 Global Strategy And Foresight London Assignment – UK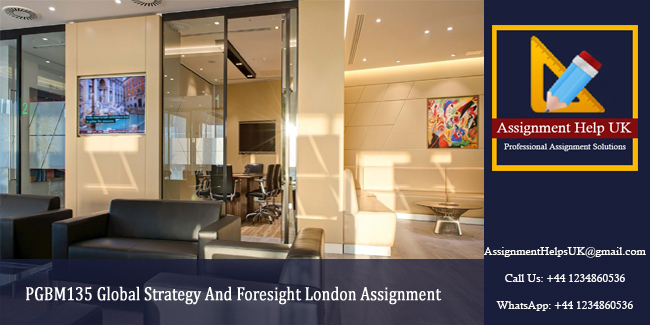 You are required to answer the following THREE questions that pertains to the case – Compass Group Plc. For further details on Compass Group Plc, you may refer to the Problem Based Learning case presented in week 2. It is also recommended that you research information additional to the case study to support your arguments. This may be obtained from a diverse range of sources and you are encouraged to research the issues in whichever way you deem appropriate.
Question One: Sources of Competitive Advantage and its relevance to management
Critically review the theories of competitive advantage and evaluate their relevance to management. In particular discuss how such theories could inform Compass Group Leadership Team in their quest to gain sustainable competitive advantage.
Question Two: Firm's strategy and strategic position
Critically review the relationship between organisational resources, external environment and firm performance. Use Compass Group Plc as an illustration in your discussion.
Question Three: The role of innovation and internationalisation in a firm's Competitive Advantage
Evaluate the relevance of innovation and internationalisation in designing and implementing Compass Group Plc strategy competitive position
ORDER This PGBM135 Global Strategy And Foresight London Assignment NOW And Get Instant Discount