Module code and title :- 5MK006 Marketing Planning
Assessment type :- Assessment 1 – Individual Report: Conducting Situational Analysis
Assessment limits :- No more than: 2,000 words, excluding appendices and references
Weighting :- 40%
5MK006 Marketing Planning Assignment-Wolverhampton University UK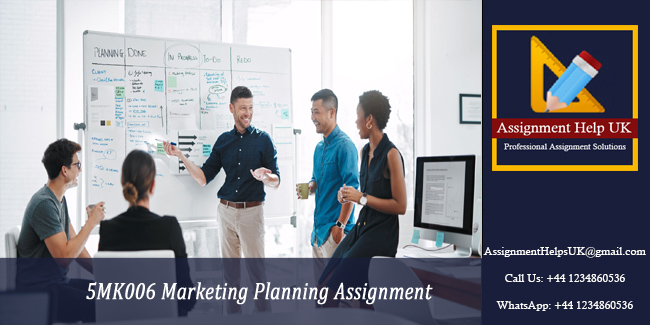 Assessment brief :-
As a member of a marketing team involved in the preparation of an effective marketing plan you have been tasked with conducting an extensive market research on any one of the following businesses:
1. Health food: Holland & Barrett
2.  Clothing: Pep &Co
3.Footwear: Skechers
 Your research should cover the last 5 years.
 Your report should utilise a range of relevant academic and data sources and under pin points made.
 Your research should specifically address the following two tasks:
1.Carry out a Situational Analysis of the UK market for your chosen business. This should include researching the company's customers products & markets and conducting SWOT PEST & competitive analyses.
2. Based on your research, segment the market for your chosen business using appropriate segmentation variables. Identify one new segment that you think would be the most profitable for your chosen business company to target. Suggest possible positioning strategies for the new segment.
Individual Report Structure
You are strongly advised to follow the report structure below:
You should use Arial 12-point and double line spacing
Front Page
This should contain the following: module code & title, the name of your chosen company your student number and the word count of each part of the report.
Second Page
This should be the Table of Contents page
Third Page: Executive Summary
Executive Summary (200 words maximum but will not be part of the word count). This is normally written after all sections of the report have been completed and includes the essential details of the report such as:
 Highlight of main points
 Major findings
 Main conclusion points
Introduction (new page)
This will be about paragraph to act as a brief introduction of your chosen company and the business it is in. Any further detailed information on the company should be placed in an appendix.
Situational Analysis
(This is based on session slides of weeks 2 & 3, student activities and the corresponding chapters of the recommended for reading marketing texts and journal articles).

Hint: Use of published research reports such as Mintel and Marketline Advantage reports, government sources national newspapers BBC business website etc. for data and information on your company. For example if the main area of your company's business is catering then search for information on the size of the market product types customers competitors etc. The company's website should offer information on the product range which can be viewed as current market segments targeted by the company. In answering this section you are strongly advised to follow this structure:
(1) Market analysis: Provide some relevant information on the market in which the company operates with in such as market trends, product range, consumers/customers types, etc.
(2) TOWS matrix: Collected information on SWOT factors should be appended and used to identify the main points for the development of a TOWS matrix and place this in the main report.
(3) PEST analysis: Collected information on PEST elements should be appended and used to identify the most relevant points for the company's PEST
(4) Competitive analysis: State the main strengths and weaknesses of your company's major competitors and place the rest of the competitive research in an appendix.
Segmentation, Targeting & Positioning
(This is based on STP session slides, student activities and the corresponding chapters of the recommended for reading marketing texts and journal articles).

This section is informed by the findings of your Situational Analysis section. First of all, ensure you understood marketing segmentation and the variables used in the segmentation process. Give a brief explanation of segmentation and profile possible segments using relevant segmentation variables. Of the selected segments identify one new segment to be targeted by the company and justify your reasons for its selection. Finally develop appropriate positioning strategies for your chosen target segment and draw a perceptual map for it.
This assessment is testing Module Learning outcomes
LO1 Demonstrate an understanding of what is involved in Marketing Planning across
a wide range of businesses and the required knowledge about the market environment customers and competitors.
LO2 Demonstrate the ability to research and evaluate data and information sources appropriate for a specific marketing situation
LO3 Discuss the roles of the various stages of marketing planning process and their
inter-links leading to the creation of an effective written marketing plan.
LO4 Develop appropriate plans of monitoring, implementation and control system for a marketing plan including identifying the required success measurements.
ORDER This 5MK006 Marketing Planning Assignment NOW And Get Instant Discount

Read More :