Module Code :-  7049CRB
Module Title :-  Professional Development: Leading Diverse Workforces
Assignment Title & Case Studies :-  Employer Case Study (100%)
1. Better Futures Multi-Academy Trust
2. Paragon Financial Group
3. Ashiana Sheffield
Module Learning Outcomes
LO1: Critically evaluate ethical and inclusive approaches to leadership and diversity in professional practice
LO2: Critically reflect on the qualities and skills necessary for effective leadership in cross-
cultural contexts from a personal professional development perspective
7049CRB Professional Development Leading Diverse Workforces Assignment – UK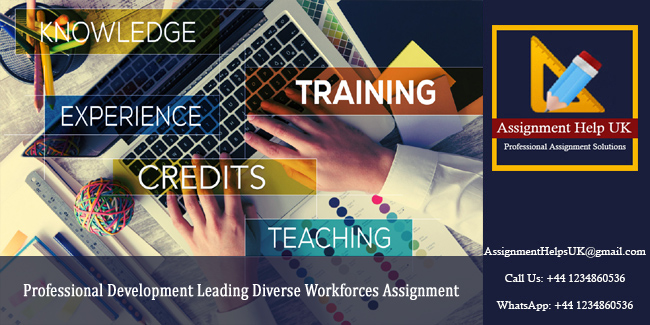 PSRB Learning Outcomes :-
PSRB LO1 Understand the principles for leading and developing people
PSRB LO2 Understand leadership and development strategy
PSRB LO3 Understand equality, diversity and inclusion at a strategic level
PSRB LO4 Know how to develop strategic priorities for equality, diversity and inclusion

What am I required to do in this assignment?
This is an individual assignment based on a critical analysis of a real organisational issue and includes a presentation of findings. To complete this assignment you must choose one of the case studies from the choice provided.
Part A: Developing a strategy to lead equality diversity and inclusion
Task 1
Create a presentation (10 key slides plus additional slides with supporting notes) for the manager in the case study on leading in the context of equality, diversity and inclusion in the organisation. The presentation must include the following:
a) A critical evaluation of the issues the organisation is currently facing and how they might be resolved.
b) Critical discussion of why equality, diversity and inclusion is important to the organisation the individual and the team as an enabler of performance.
c) Explain and analyse how a strategy for equality, diversity and inclusion strategy could be implemented for cultural change in the organisation.
d) Critically evaluate and discuss how the leadership style impacts upon equality diversity and inclusion in the organisation.
It is expected that appropriate models, academic sources and good practice theory will be applied and be academically rigorous to support your work.
Task 2 :-
Your case study organisation has recently under taken a brief staff survey to be more informed on how they are leading and developing people within the organisation. Draft a set of briefing notes in response to the survey findings to present to the organisation to guide their future strategy. Include this information on additional slides in standard text.
The survey has revealed the following:
§ 65% look forward to going to work in the morning;
§ 80% feel valued and supported by their work colleagues, 55% by their line manager but only 20% by senior managers;
§ 60% are satisfied with their physical work environment;
§ 21% are satisfied with their pay and benefits, but no-one says they are 'very satisfied'
§ 55% are happy with their work life balance;
§ 33% are satisfied with their training and development opportunities;
§ 83% say their workload has increased in the past year;
§ 70% are satisfied with their promotion opportunities;
§ 90% say that they 'sometimes feel stressed' when they are at work;
§ 74% say they 'feel safe' at work;
§ 88% are happy with the business's equality and diversity practices;
§ 28% are 'listened to when they are at work';
§ 36% are happy with their job security;
§ 27% say they feel their efforts at work are properly recognised;
§ 54% are actively seeking alternative employment.
The set of briefing notes must:
a) Identify which THREE of the key findings from the survey, the manager and senior team should prioritise for immediate attention and strategic action. Provide a critical rationale for your answer explaining why these THREE findings are important in leading and developing people in the organisation.
b) Use your answers in part 2a to choose and critically evaluate ONE strategic initiative which should be developed and embedded into the organisation to improve one of the findings identified in part 2a.
c) Include a draft email. The company is keen to send an email to all staff headed You Said We Listened summarising the company's leadership and management perceptions of the staff survey findings and setting out what practical steps it is intending to take. Prepare the draft You Said We Listened e-mail that should be sent.
Part B: Personal and Professional Account
Task 3
Write a reflective personal and professional account
Create a journal entry reflecting on any ONE of the professional areas from the CMI Code of Conduct and Practice code ensuring you also elaborate further on how you would apply it to your own current or future professional career include this information on additional slides using standard text).
7049CRB Professional Development Leading Diverse Workforces Assignment – UK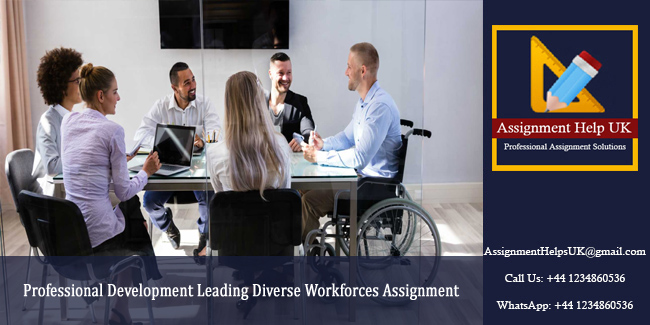 Over all presentation and application (applies to both parts A and B)
Ability to communicate arguments in clear and appropriate PowerPoint slides that are well-structured illustrative where necessary with evidence of a professional writing style and appropriate sources accurately referenced through out and correctly listed at the end.
Note: In your responses you are allowed to make reasonable assumptions to the case study details provided. However the case study should not be changed or compromised in any way. If you use a different case study to the ones provided you will fail and receive 0% grade.
Please refer to the Module Handbook for more detailed information for each section of the assessment.
How do I produce high quality work that merits a good grade?
Attend the live Seminar sessions We will be providing a number of live seminar sessions to guide your progress. This is a two-way process where you must also contribute to your own learning, knowledge and understanding. Please make sure you have access to the assignment during this session and be ready to raise questions about the assignment early enough so we can help you to get a good grade.
Future Learn Platform You must work steadily through the short courses on the Future Learn platform in a timely manner to have a better understanding of topics relating to Leading Diverse Workforces and organisations as a whole. It is better to go slowly through the material on Future Learn and not leave all your learning to the very end. Be sure you post your comments and thinking about the questions being asked as well as commenting on your colleagues postings.
Read Widely and Deeply As a Master's student you are expected to read for your degree and achieve Mastery of your subject. The CMI website and Coventry University's library has a range of resources for you to use. Please avoid websites that do not host peer reviewed academic articles that are robust in content.
How does this assignment relate to what we are doing in my sessions?
The module aims and learning outcomes are achieved through a blended approach that combines e–learning with tutorseminars to provide a stimulating combination of theoretical under standing and practical application. As post graduate students you are required to undertake guided reading for example using the online learning materials,
library databases CMI resources as well as attend the scheduled seminar sessions. The on-line discussion spaces will be used as an additional forum to post concerns communicate with the group to explore issues and share information outside the scheduled seminar sessionsthus maximising the opportunity for peer and tutor discussions and aid the co-creation of learning.
You will be encouraged to collaborate with your colleagues online to support your own learning, to collaborate in studying and as well as interacting with your tutors as you develop skills of curiosity and cross-disciplinary working.
This assignment is based on a real world organisational case study exploring several aspects of Leading Diverse Workforces. This requires you to become more critical in your understanding of Leading Diverse Workforces becoming thinking performers as you attempt to find solutions to the challenges presented in the case study whilst ensuring an efficient effective ethical and professional approach to creating workable and relevant solutions. Over the semester weeks, we will debate and discuss how we can best achieve effective and relevant responses to the organisational challenges faced in the case studies.
7049CRB Professional Development Leading Diverse Workforces Assignment – UK
Special attention will be placed upon the research and survey evidence gathered by the CMI academic articles and texts government departments and agencies and other such bodies as relevant to the discussion. Illustrative examples from journals and current news articles will be utilised by you to encourage analysis and provide challenges to your learning. Videos and podcasts will be integrated into the learning experience to enhance your under standing of effective insert module title in practice.
The topics covered and learning resources used in this module will invite questions and be both challenging and relevant to your continuous professional development. You will be encouraged to share your development experiences to enhance all students' as well as your own learning experience. Your development through completion of this module will assist in your future development as a member of the CMI.
How do I submit my work?
We have provided a guide and a sample presentation template to submitting your work in the assessment folder on your AULA page. You are expected to submit a single PowerPoint file saved as a PDF for ease of submission/uploading. All task sections must be entered into Power Point slides and presented as requested, with relevant headings used per section as illustrated in the template guide.
ORDER This  7049CRB Professional Development Leading Diverse Workforces Assignment  NOW And Get Instant Discount
Read More :